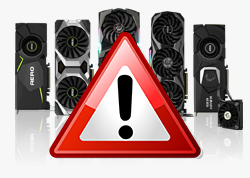 Please read the information below carefully before placing an order for Graphic Cards (GPU)
Thank you for your interest in our series of Graphic Cards (GPU).
Please be aware that for the time being, there is a major shortage worldwide on Graphic Cards. The request is much higher than supply on most series. The delivery schedule you will see for each product, is an estimation based on information provided to us by our suppliers. We cannot guarantee that the estimated delivery periods will be kept, but we do our utmost to deliver your order as fast as possible.
In order to ensure that we receive the latest information of supply, we are in constant contact with our manufacturers. Delivery schedules are updated to us on a daily or weekly basis. We use the provided information to calculate estimated delivery times based on the number of orders we have to deliver to our customers.
We do not work with published waiting lists but we guarantee you, that your order will be delivered to you based on a First in, First out principle.
Once you have placed your order, you will receive an order confirmation and we will keep you informed about the delivery situation until your order has been shipped and delivered to you.
If you decide to cancel your order during the period from order confirmation to actual shipment, we kindly ask you to contact us at sales@xstra.eu. We will accept your cancellation request and return your payment immediately.
At this stage we are not able to provide exact information to when the market situation will return to normal. Some manufacturers say third quarter 2021, and some market analysts say forth quarter 2021. We will, on a regular basis, update this document with the latest information provided to us.
If at any given time you have further questions, or inquiries, our employees will be available to answer them via our LiveChat services or our e-mail: sales@xstra.eu.
Kind regards,
Xstra Digital Storage B.V.